J Crew virtually hits the slopes with holiday metaverse shop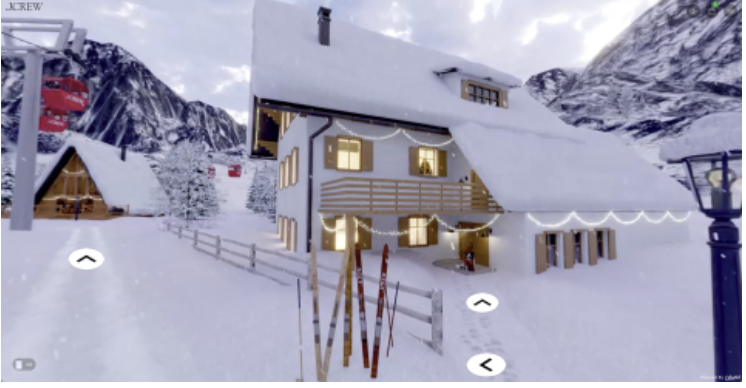 J.Crew is building on its presence in the metaverse with a gamified, ski-themed, immersive holiday shopping experience.
In an email to Chain Store Age, J.Crew said it has opened the holiday edition of the immersive virtual store based on the Obsess metaverse platform it initially opened in June 2023. The store's virtual layout includes a Snow Lodge for women's apparel and accessories, and a separate Ski Chalet for men's apparel.
J.Crew's holiday metaverse experience also features an AI Card Generator tool that allows visitors to answer a set of "this or that" questions, which will then generate a holiday greeting card based on their responses. In addition, it features an interactive 3-D ski game inspired by a vintage video game that has the player move the skier through a series of red flags to avoid trees on the path.
Visitors can also interact with content highlighting the vertical specialty apparel retailer's heritage, participate in a scavenger hunt for a chance to win a cashmere giveaway, and shop a curated assortment of winter and holiday J.Crew products.
J.Crew opens shoppable metaverse 'beach house'
As mentioned above, J.Crew first opened a store in the metaverse in June 2023. The store took the form of a virtual beach house featuring six unique rooms and a separate boathouse. The J.Crew Virtual Beach House also offered interactive content highlighting the brand's history, as well as seamless checkout.
Customers could interactively browse and shop J.Crew clothing, shoes and accessories in themed rooms with contextual merchandising allowing them to learn more about the products.
For example, customers could visit the Floral Room and shop for made-in-Spain espadrilles after learning about the 14th-century origin of the shoe's design. The Virtual Beach House also featured images from the company's print catalogs and gamification elements, including a "Catalog Cover Pop Quiz" and a multiroom, interactive scavenger hunt game.
Apparelbrands sell direct to consumers via metaverse
The metaverse is proving appealing to apparel brands that can leverage its interactive capabilities to offer an immersive direct shopping experience. For example, Tommy Hilfiger operates a multi-metaverse commerce hub, based on technology from Emperia, that brings together several metaverse platforms, including Decentraland, Roblox (designed by Sawhorse Productions), Spatial, DressX and Ready Player Me.
And premium men's apparel and underwear brand Saxx offers an immersive virtual store that allows shoppers to browse 3D items in a 360-degree digital environment. Saxx is partnering Emperia to operate the virtual store, which exclusively features underwear, tops and swimwear from its DropTemp collection, which uses proprietary evaporative fabric to cool the body.
Chain Store Age
#web3marketing #metaversemarketing #immersiveexperiences #virtualworlds #virtualexperiences #virtualcommerce #metaverseexperiences #icommerce #immersivecommerce #ecommerce #virtualshopping